Computers are becoming faster, lighter and more powerful than ever. Whether you are a professional, a student or a simple user, choosing the right computer with the right features for your needs is essential for optimal use. In this article, I outline the key features to consider when buying a new computer in 2023.
Processor (CPU)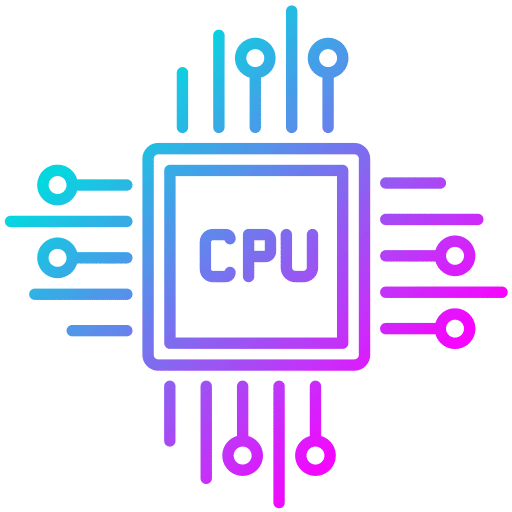 The processor or central processing unit (CPU) is the heart of your computer. It therefore determines its ability to perform tasks and applications quickly.
In 2023, it is recommended to choose a processor with at least 4 cores and a clock rate of at least 3.0 GHz for daily use.
For optimal performance, choose an Intel Core i5, i7, or i9 AMD Ryzen 5, 7, 9 or equivalent processor.
If you have a large budget, I recommend a computer with the Apple Silicon M1 or M2 processor. These chips offer excellent performance!
Random Access Memory (RAM)
RAM is therefore crucial. It temporarily stores data for quick access.
In 2023, opt for at least 8GB of RAM for everyday use. For demanding tasks, such as video editing or gaming, choose 16GB or more. This way, your computer can handle multiple applications and tasks without slowing down.
The more RAM you have, the more applications and tasks your computer can handle simultaneously without slowing down.
Storage
Storage is therefore a key factor in keeping your files and applications.
SSDs are faster and more reliable than traditional hard drives. In 2023, opt for a 256GB SSD for basic use.
For more space, choose 512 GB or 1 TB. More storage means you can store more files and applications without worrying about running out of space.
Also read: How to use ChatGPT effectively?
Graphics card (GPU)
The graphics card (GPU) is responsible for the display and processing of the images.
For office use, an integrated GPU is sufficient. For gaming, content creation or 3D design, opt for a dedicated GPU.
In 2023, consider NVIDIA GeForce RTX 30xx or AMD Radeon RX 6xxx cards. Adapt your choice according to your needs and your budget.
Screen
The screen is essential for your visual comfort. For everyday use, a Full HD screen (1920×1080) is sufficient.
For a better image quality, opt for a 4K screen.
The screen size depends on your preferences: 13 to 14 inches for mobility, 15 to 17 inches for mixed use.
Also consider a monitor with a high refresh rate (120 Hz or higher) for video games or graphics tasks.
Connectivity
Connectivity is therefore important to connect your computer to various peripherals.
Make sure your PC has USB, USB-C, HDMI ports and an SD card reader.
Choose a computer with a Wi-Fi 6 connection for better speed and stability.
And finally, opt for a model with Bluetooth 5.0 compatibility or higher to easily connect wireless accessories, such as headphones or keyboards.
Battery life (for laptops)
Battery life is also an important criteria for laptops. For daily use, aim for at least 6 to 8 hours of autonomy.
If you are often on the go, choose a model that offers 10 hours or more.
Battery life varies depending on usage, so choose a laptop with a battery that suits your specific needs.
Summary of characteristics of a computer to choose in 2023
| Characteristic | Recommendation |
| --- | --- |
| Processor (CPU) | Intel Core i5/i7 or AMD Ryzen 5/7 latest generation, Apple Silicon M1 or M2 (high budget) |
| Random Access Memory (RAM) | 8 GB for basic use, 16 GB or more for intensive tasks |
| Storage | 256 GB, 512 GB or 1 TB SSD depending on your needs |
| Graphics card (GPU) | Integrated GPU for office use, dedicated GPU (NVIDIA GeForce RTX 30xx or AMD Radeon RX 6xxx) for gaming and content creation |
| Screen | Full HD (1920×1080) or 4K, size 13 to 17 inches, high refresh rate for video games and graphics tasks |
| Connectivity | USB, USB-C, HDMI, SD card reader, Wi-Fi 6, Bluetooth 5.0 or higher |
| Battery life | 6 to 8 hours for daily use, 10 hours or more for mobile users |
Conclusion
In 2023, choosing a computer with the right features for your needs and usage is essential to getting the most out of your investment.
So consider factors such as processor, RAM, storage, graphics card, display, connectivity, battery life and operating system to select the computer that's right for you.