TeamViewer is widely used for screen sharing, remote control, file transfer and much more. If you're using Ubuntu 23.04 and would like to install TeamViewer, this article shows you how to install TeamViewer on Ubuntu 23.04.
Pourquoi utiliser TeamViewer ?
Before diving into the details of installation, it's useful to understand why TeamViewer is so popular. TeamViewer is a remote communication and collaboration platform enabling users to share screens, remotely control other computers, transfer files and even hold online meetings.
⇒ How to install Docker on Ubuntu 23.04?
TeamViewer installation requirements on Ubuntu 23.04
Before you can install TeamViewer on Ubuntu 23.04, make sure your system is up to date. To update the system, run the following command in the terminal:
Step 1: Download the TeamViewer package
You can download the TeamViewer installation package directly from their official website.

However, to simplify the process, we'll use the wget command to download the package directly into the terminal. Run the following command:
wget https

:

//download.teamviewer.com/download/linux/teamviewer_amd64.deb
Once the download is complete, you'll find the file in your machine's Download or Home folder.

Step 2: Install TeamViewer
Once the package has been downloaded, you can install TeamViewer using the dpkg command. Run the following command in the terminal:
sudo dpkg 

-

i 

teamviewer_amd64

.deb
Installation may fail due to missing dependencies. If this is the case, you can install these dependencies using the apt-get command. Run the following command:
This command will install all the necessary dependencies, then you can retry the TeamViewer installation with the dpkg command.
You can then resume TeamViewer installation.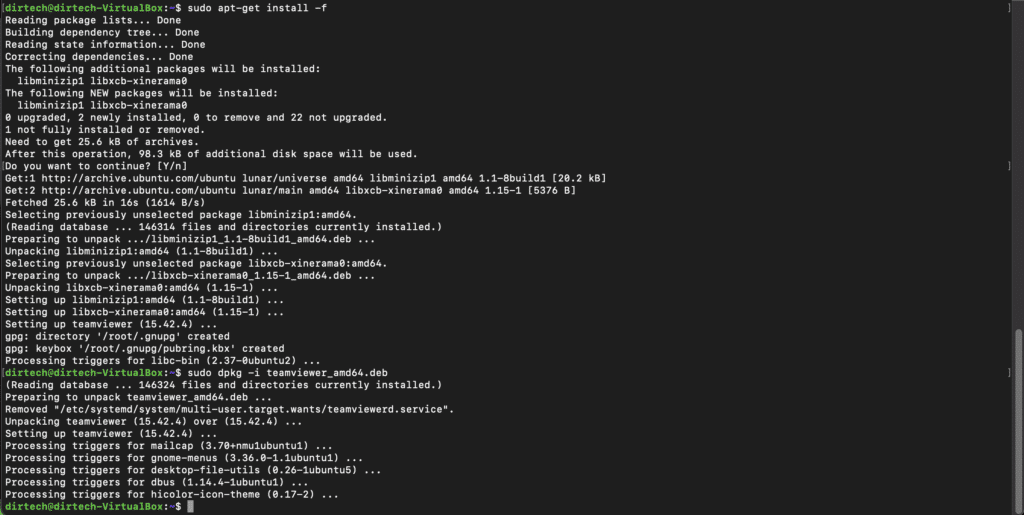 Step 3: Launch TeamViewer
After installation, you can launch TeamViewer either from the command line or by searching for TeamViewer in your desktop applications. To launch TeamViewer from the command line, run the following command:
After the command, TeamViewer launches automatically.
You can also use the search bar to find TeamViewer and launch it.

Congratulations! You have installed TeamViewer on your Ubuntu 23.04. Here's what the TeamViewer interface looks like.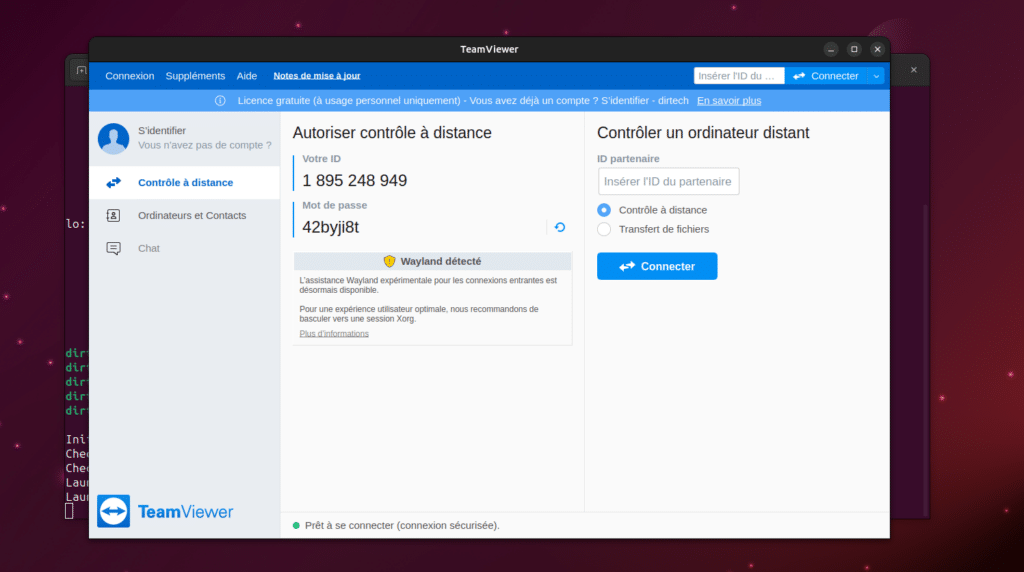 Conclusion
Installing TeamViewer on Ubuntu 23.04 is a simple process requiring just a few steps. TeamViewer is a powerful tool for remote control, screen sharing and much more, making it a must-have for many Ubuntu users.