Microsoft Edge, Microsoft's flagship browser, is no longer just for Windows users. Are you an Ubuntu user who wants the speed, security and advanced features of Microsoft Edge? You are in the right place! In this article, we will see how to install Microsoft Edge on your Ubuntu system.
We have made these instructions simple and easy to follow. So let's get started without further ado.
What is Microsoft Edge?
Microsoft Edge is a web browser developed by Microsoft. Launched in 2015 to replace Internet Explorer. Edge has quickly established itself as a solid alternative to established browsers like Chrome or Firefox.
With its Chromium rendering engine (the same one used by Google Chrome), Edge offers a fast, efficient and customizable browsing experience.
Why install Microsoft Edge on Ubuntu?
First, if you are a regular user of the Microsoft Office suite online, using Microsoft Edge could optimize your experience. This is because of its native integration with these services.
Second, Microsoft has made great strides in privacy with Edge. You can adjust your privacy settings at three levels: basic, balanced and strict. This gives you more precise control over the tracking of your online activities.
Finally, for developers, Edge offers an excellent suite of integrated development tools. If you work in a mixed environment (Windows, Linux, Mac), having the same browser on all systems can facilitate testing and debugging.
So even though Ubuntu comes with Firefox by default, installing Microsoft Edge can bring a new dynamic to your Ubuntu browsing experience.
Requirements for installing Microsoft Edge on Ubuntu
Before diving into the installation of Microsoft Edge on Ubuntu, there are a few prerequisites to check to ensure a smooth installation.
First, make sure your Ubuntu system is up to date. To do this, you can use the following commands in your terminal:
sudo apt update




sudo apt upgrade
Second, check your Ubuntu version. Microsoft Edge is supported on Ubuntu 20.04 LTS and later. You can check your Ubuntu version with the following command:
In our case here, we have Ubuntu 23.04.
⇒ How to upgrade to Ubuntu 23.04 from Ubuntu 22.10?

Finally, keep in mind that Microsoft Edge requires an internet connection for installation. So make sure you have a stable connection before you start.
Once you have checked all these prerequisites, you are ready to proceed to the installation of Microsoft Edge on Ubuntu.
Download and install Microsoft Edge on Ubuntu
Once the prerequisites are checked, the process of downloading and installing Microsoft Edge on Ubuntu is quite simple and can be done in a few steps.
Step 1: Go to the official Microsoft Edge website. Select Download Edge Linux then choose your Linux distribution (in our case, Ubuntu).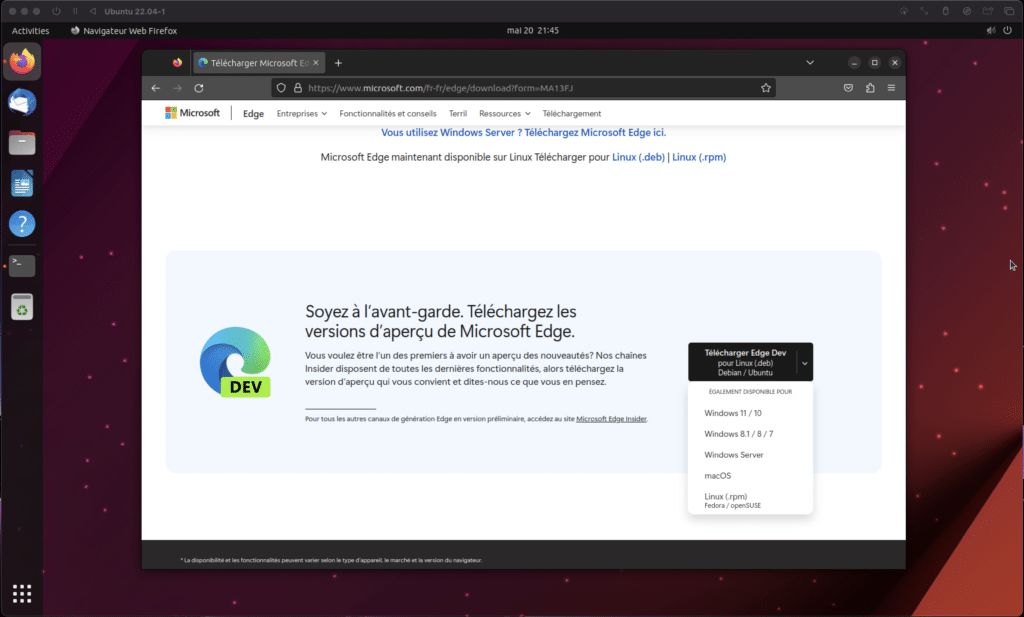 Step 2: You will see a button Download .deb package. Click on it to start the download.
Step 3: Once the download is complete, open the terminal and navigate to the directory where the .deb file was downloaded. For example, if the file was downloaded to your Downloads folder, you can use the following command:
Step 4: To install the package, use the following command:
sudo dpkg 

-

i microsoft

-

edge

-

dev

-*

.deb
Note: replace "*" with the version of the file you downloaded.
Step 5: After the installation, you can find Microsoft Edge in the list of applications on your system. Click on it to launch it.

And that's it! You have installed Microsoft Edge on Ubuntu. Enjoy browsing with this modern and powerful browser.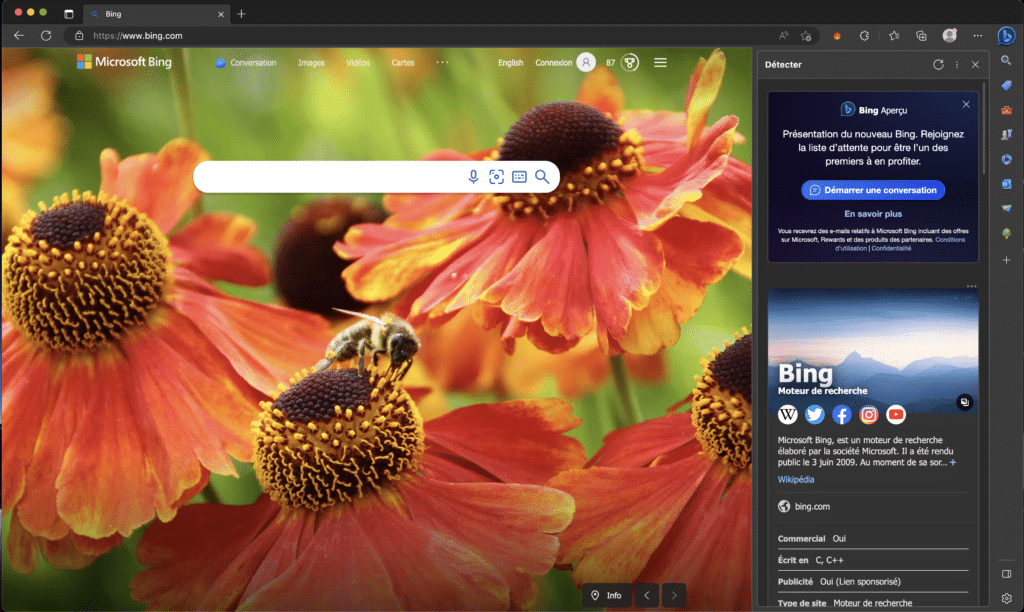 Conclusion
In short, installing Microsoft Edge on Ubuntu opens the door to a multitude of features and benefits. Not only is this browser fast and resource-efficient, but it also offers enhanced security and extensive website compatibility.
Whether you are a casual internet user or spend hours every day browsing the web, Microsoft Edge can improve your browsing experience. From cross-platform synchronization to installing custom extensions, the possibilities are vast.
So feel free to explore Microsoft Edge on Ubuntu. Whether you want to test its features, enjoy a more secure browsing experience, or just want a change of scenery, Microsoft Edge has a lot to offer. Enjoy it and discover for yourself what this browser can do for you.