Create and manage users in CyberPanel
User management is an essential aspect of server administration, as it allows you to control the access and privileges of each user. By controlling user management, you ensure the security and efficiency of your server. CyberPanel is a popular control panel that makes this task easy. In this article, we will see step by step how to create and manage users in CyberPanel. Learn how to add, modify, delete users and manage their privileges to ensure an optimal experience on your server.
What is a user on CyberPanel?
In CyberPanel, a user represents a subordinate account, created by the administrator or reseller. This type of account has the most limited permissions and is subject to management rights restrictions.
Typically, a user is responsible for managing his or her own websites and resources, without access to the advanced features of the administrator or reseller.
It is therefore crucial to properly define the roles and privileges of users to ensure the security and proper organization of the server.
Create users on CyberPanel
After installing CyberPanel and creating sites, it is time to create users and associate them with their respective sites.
This step is essential to ensure effective resource management and to delegate responsibilities according to the needs of each user.
To do so, here is how to proceed:
In the dashboard, click on USERS.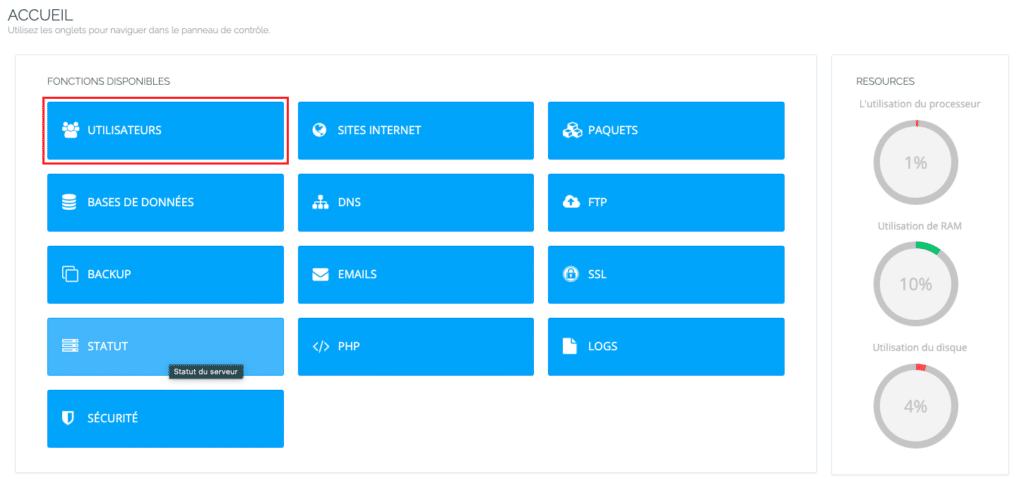 Then click on CREATE USER.

And from here you can fill in the form with the necessary information.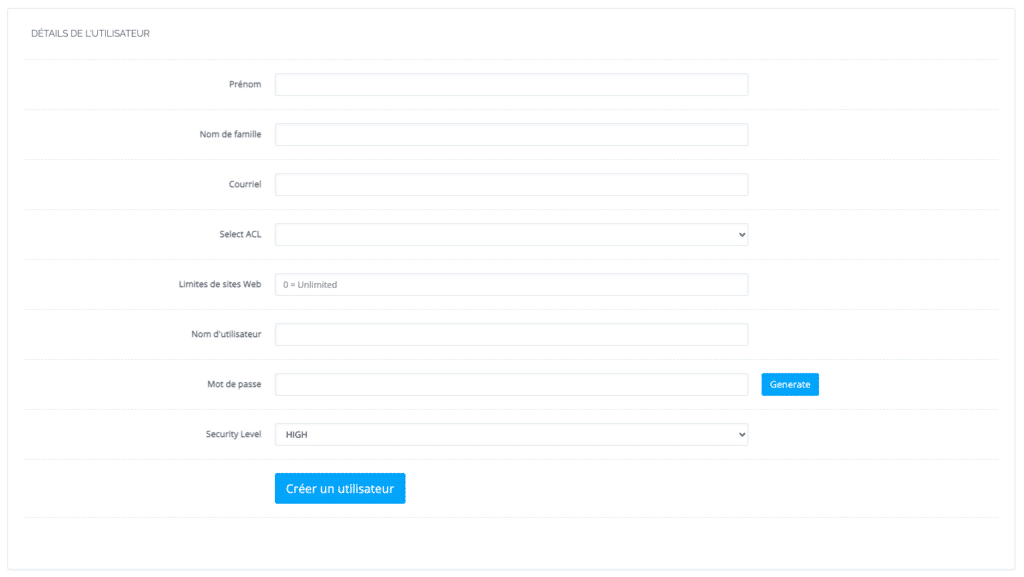 Now provide the necessary information to create a new user. Avoid using accents in the form, use CAPITALS instead:
First name
Family name
Email
Select ACL (admin, reseller, user)
Limit of websites (Set 0 for unlimited)
Username
Password (Press Generate for strength)
Security level (high or low)
After filling in all the information, click Create User to create a user account.
List CyberPanel users
To view all CyberPanel users, select Users > User List.

The table will display :
Usernames
Website limit
Current disk usage
Type of user
Owner (administrator user or reseller)
If the user account is active or inactive
Options to suspend/activate, modify or delete the account

Change the CyberPanel user
To modify the user, click on MODIFY.

You can then modify the ACLs between Administrator, Reseller, User and Custom ACLs

Changes are effective immediately.
To adjust most user settings, including enabling two-factor authentication (2FA/TFA), go to Users > Edit User and choose a CyberPanel user from the drop-down menu. Don't forget to click on Edit User at the bottom of the page to save your changes.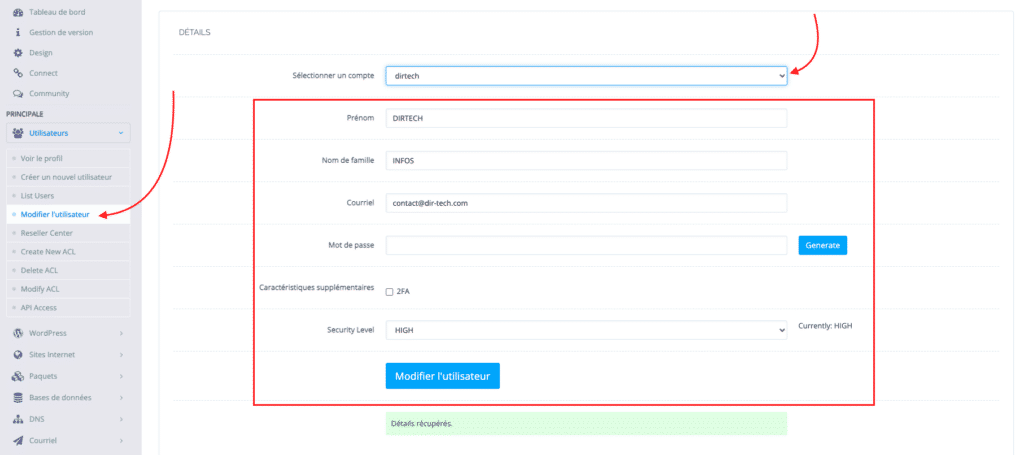 Change the website limit in the Reseller Center
To change these settings, go to Users > Reseller Area from the sidebar.

Select a user from the drop-down menu. Then set the new owner and website limit before clicking Save Changes.
Manage access control lists (ACLs)
Administrator, Reseller and User ACLs cannot be changed or deleted.
If you need to assign a custom set of privileges to a user, create custom presets by going to Users > Create New ACL.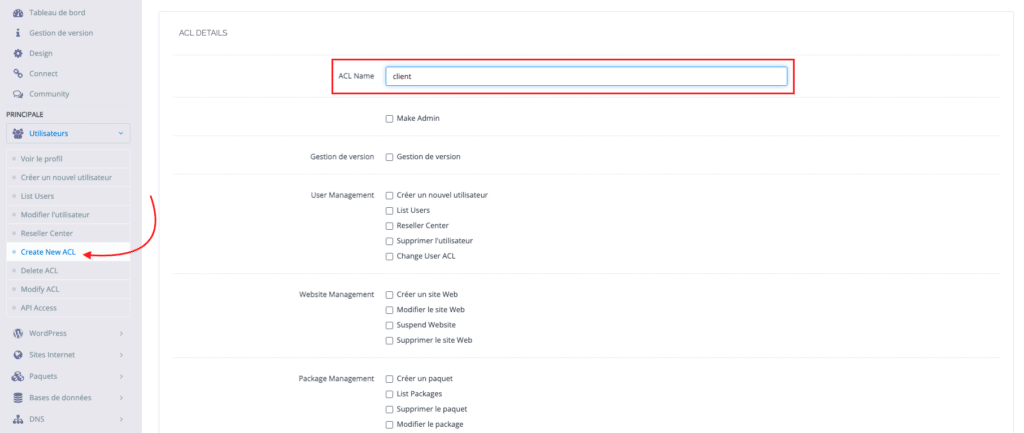 Then enter a name for the ACL, check the boxes for the features you want to allow, and click Create ACL.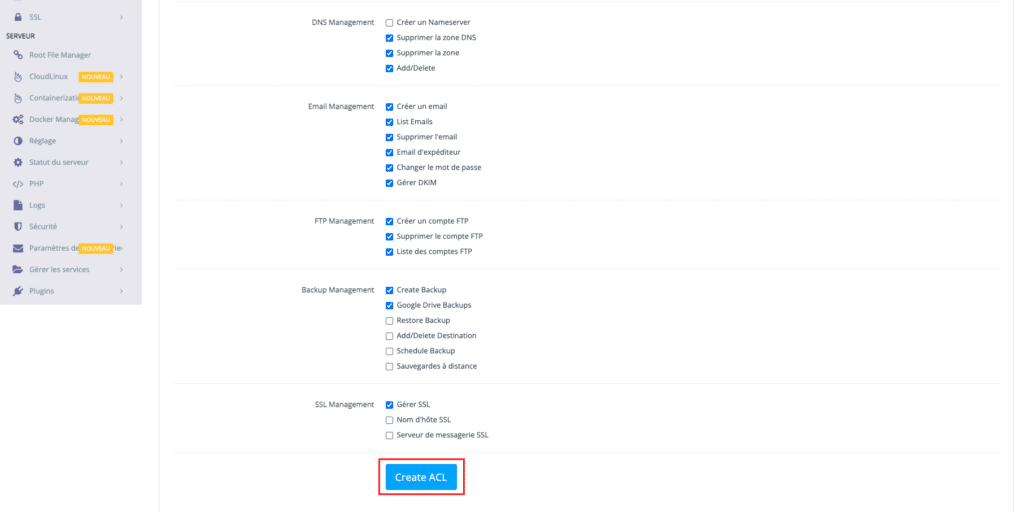 Delete ACL
To delete a custom ACL, follow the steps below:
From the CyberPanel menu bar, go to Users > Delete ACL
Choose the ACL from the drop-down list
Select Delete ACL and click Are you sure?
Note: You cannot delete an ACL when it is assigned to a user.

Modify ACL
To edit a custom ACL:
First go to the menu bar, then select Users > Edit ACL
Choose an ACL from the drop-down list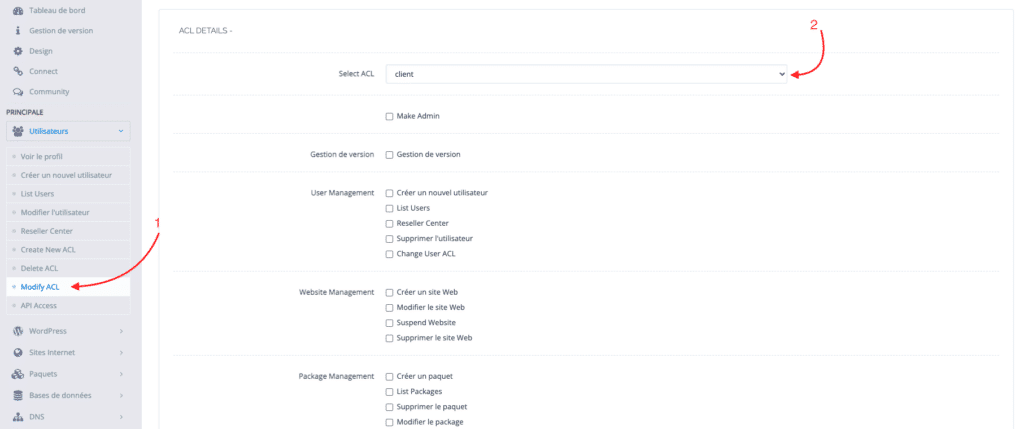 Make the necessary changes
Then click Save Changes.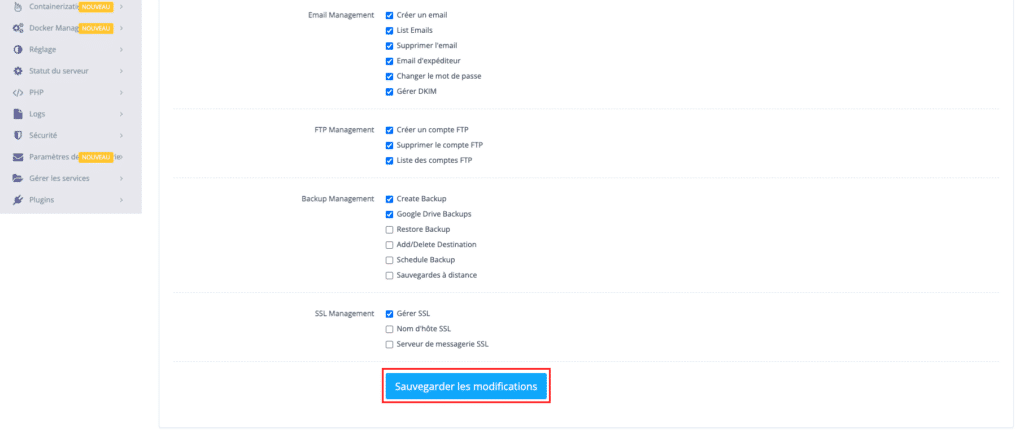 Conclusion
In short, user management in CyberPanel is a simple and essential process to effectively administer your server and hosted websites. By following the steps described in this article, you can create, modify and delete users, as well as manage their privileges through ACLs.
Mastering these features will allow you to better control access to resources and ensure the security and stability of your hosting environment.
So feel free to explore and use these options to optimize your CyberPanel server management.