Would you like to enjoy your favorite videos and music on your Ubuntu system? VLC, the versatile and powerful multimedia player, is the perfect solution. Here's a simple guide to installing VLC on Ubuntu, so you can quickly start enjoying all its features.
What is VLC?
VLC, also known as VLC Media Player, is a popular free, open-source multimedia player.
Developed by VideoLAN, a non-profit project, VLC is renowned for its ability to play a wide range of audio and video file formats, often without the need to install additional codecs.
Step 1: Update your system
When you're about to install new software, such as VLC Media Player, on Ubuntu, it's crucial to start by updating your system.
This not only ensures that you have the latest features and security patches, but also that new software is compatible with your system. Here's how to do it:
Type the following command:
sudo apt update 

&

 sudo apt upgrade
These commands will download and install updates. If any packages need to be removed or installed to complete the update, your system will inform you.
Step 2: Install VLC
After updating your system, the next step is to install VLC Media Player.
VLC is a free, versatile media player that can play almost any audio and video file format.
Here's how to install VLC on Ubuntu.
Ubuntu has VLC in its official repositories, which makes it very easy to install.
In the terminal, enter the following command:
This command asks your package manager to install VLC. You may need to enter your password to authorize this installation.
The process may take a few minutes, depending on your Internet connection speed. The system downloads the necessary files and installs them automatically.
Step 3: Launch VLC
Once you've successfully installed VLC Media Player on your Ubuntu system, it's time to launch it and start enjoying its many features.
VLC is renowned for its ease of use and compatibility with a multitude of file formats. Here's how to start VLC on Ubuntu.
Launch of VLC Media Player
Via the Applications Menu : The easiest way to launch VLC is via the applications menu of your Ubuntu desktop environment.
Click on the activities icon or use the Super shortcut (Windows key) to open the activities overview.
Type "VLC" in the search bar.

Click on the VLC icon to launch it.
From Terminal: You can also start VLC directly from the terminal, which can be useful for troubleshooting or using advanced functions.
Open a terminal (Ctrl + Alt + T).
Type vlc and press Enter.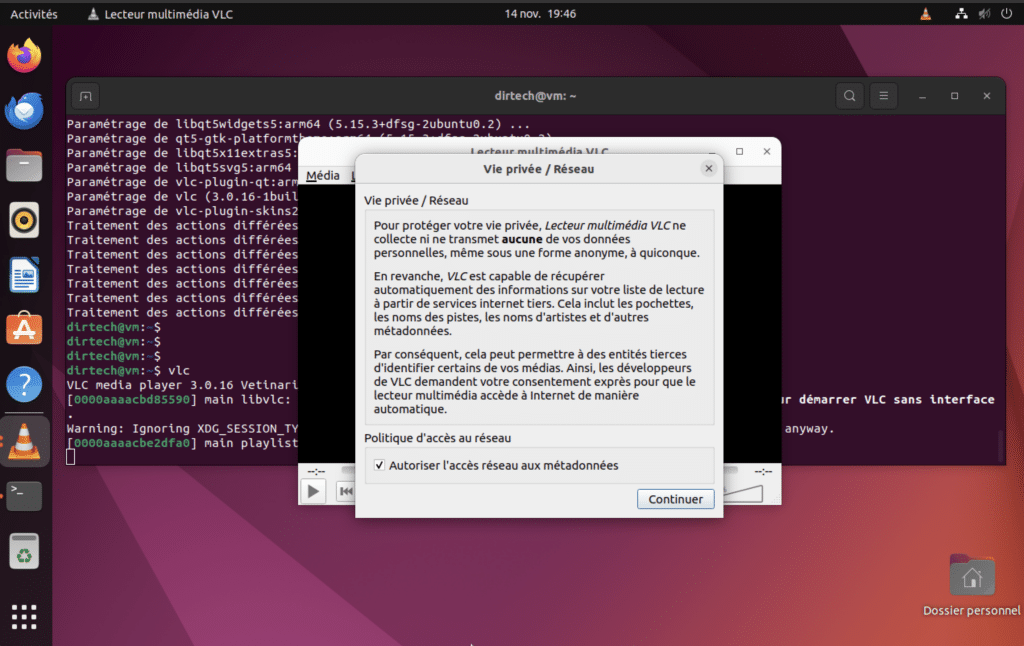 Getting started with VLC
Open a Media File: To play a file, simply click on Media in the menu, then on Open File and navigate to the file you wish to play.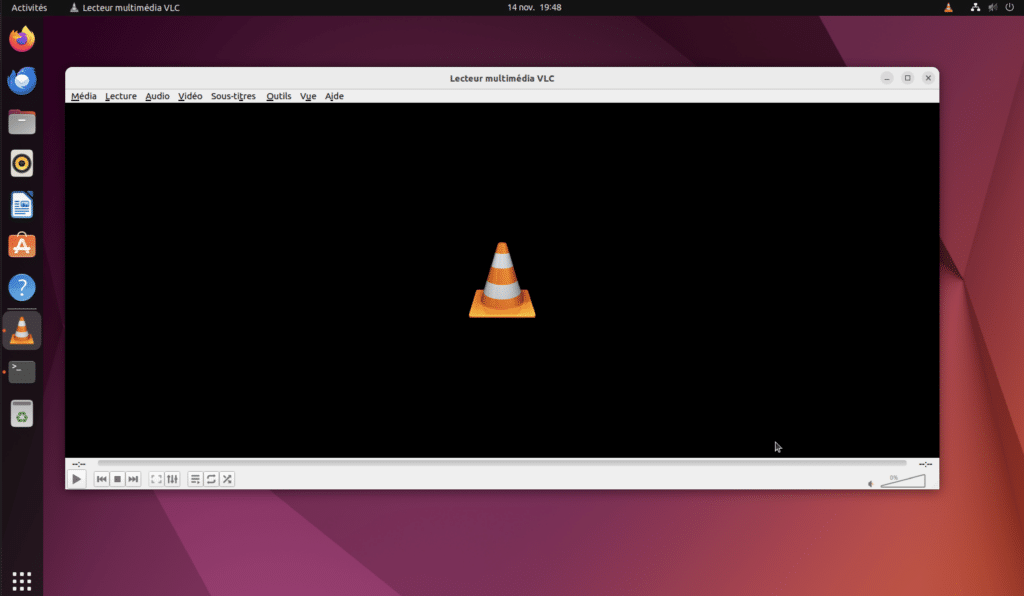 Customization: VLC is highly customizable. Explore preferences and settings to tailor VLC to your needs.
VLC isn't just a media player; it has features such as media conversion, online streaming and much more.
Uninstalling VLC on Ubuntu
If you've decided to uninstall VLC Media Player from your Ubuntu system for whatever reason, the process is simple and straightforward.
Here's how to remove VLC from your system.
In the terminal, type the following command to uninstall VLC :
This command will remove VLC from your system. If you are asked to confirm, press Y to continue.
After uninstalling VLC, you can also choose to remove any dependencies that were installed with the software but are no longer required.
Remove unused dependencies:
This command will clean up packages that have been installed automatically to satisfy VLC dependencies but are no longer needed now that VLC has been removed.
If you wish to delete the VLC configuration files, use the following command:
This will delete the configuration files associated with VLC, in addition to the software itself.
See also: How do I install a GUI environment on an Ubuntu server?
FAQs
Can VLC play all media file formats?
VLC is renowned for its ability to play a wide variety of audio and video file formats. This includes the most common formats such as MP4, MP3, AVI, and many others. It's rare that VLC encounters a format it can't read.
How can I update VLC on Ubuntu?
To update VLC, use Ubuntu's package manager. Open a terminal and type sudo apt update followed by sudo apt upgrade. If a VLC update is available, it will be installed.
Can I stream content online with VLC?
Yes, VLC lets you stream content online. To do this, open VLC, go to Media, then Open a network stream, where you can enter the URL of the stream you wish to play.
Is VLC available in other languages?
Yes, VLC is available in several languages. You can change the language in the VLC settings under Tools > Preferences > Interface.
How can I add subtitles to a video in VLC?
To add subtitles, launch the video in VLC, right-click on it, go to Subtitles and choose Add subtitle file. Navigate to the subtitle file you wish to add.
Can I use VLC to convert media files?
Yes, VLC has a media conversion function. Go to Media > Convert / Save, choose your file, then select the desired output format.
How can I solve playback or performance problems in VLC?
If you encounter playback or performance problems, try updating VLC to the latest version. You can also try resetting VLC preferences to their default values.
Conclusion
In short, VLC Media Player is an incredibly versatile and powerful tool for all your multimedia playback needs on Ubuntu.
Its ease of installation and configuration makes it a preferred choice for many users.
What's more, VLC supports a wide variety of file formats, providing a smooth, high-quality playback experience.