OneDrive, Microsoft's cloud storage service, is also available to Mac users, including those who have adopted the recent Apple Silicon M1, M2 and M3 Macs. In this tutorial, we'll show you how to install OneDrive on these Apple Silicon-equipped Macs.
Step 1: Download and install OneDrive
Installing OneDrive on your Mac is a straightforward process. Follow these steps for a successful installation.
Click on the Mac App Store icon in your Dock. If you can't find it directly, you can also use Spotlight to search for "Mac App Store" and open the application.
In the search bar at the top right of the Mac App Store, type "OneDrive". Be sure to select the official application offered by Microsoft Corporation to avoid any malicious or unofficial software.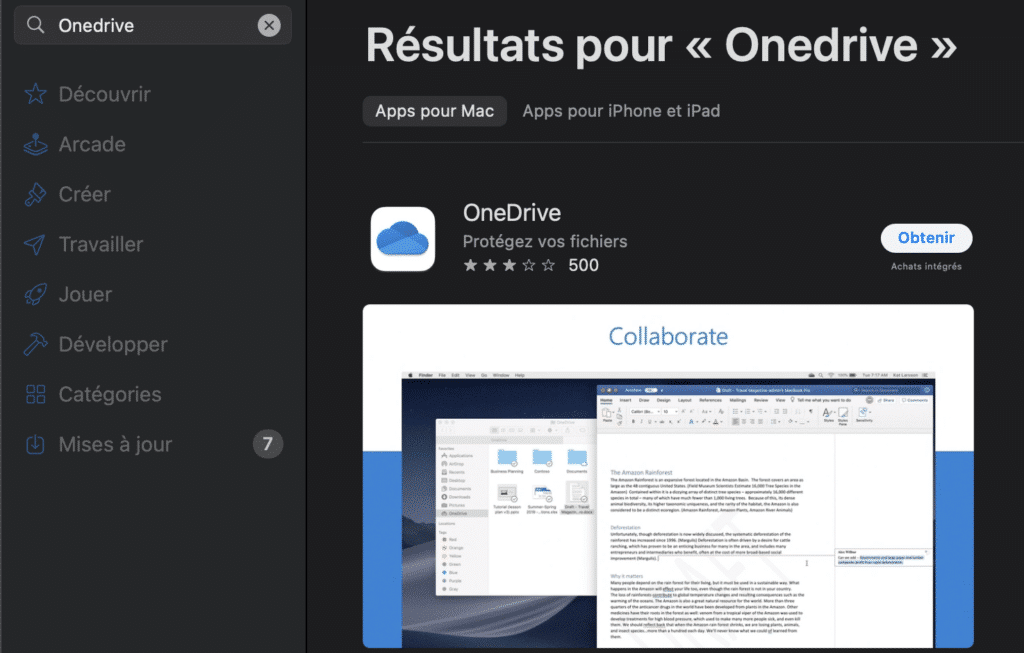 Next to the OneDrive application, you'll see a "Get" button or a cloud icon. Click on it to start downloading. If you've already downloaded OneDrive in the past with your Apple ID, the cloud icon will appear.

Once the download is complete, installation will start automatically. No intervention is required at this stage.
You can also download OneDrive directly from the official website.
See also: How do I install Zoom on a Mac M1 or M2?
Step 3: Configuring OneDrive
Now that OneDrive is installed on your Mac, it's time to configure it. This step is crucial to ensure that your files are properly synchronized and secured. Here's how.
Look for the OneDrive icon in your "Applications" folder and double-click it to launch the application.
When you open OneDrive for the first time, a welcome window will appear, inviting you to log in.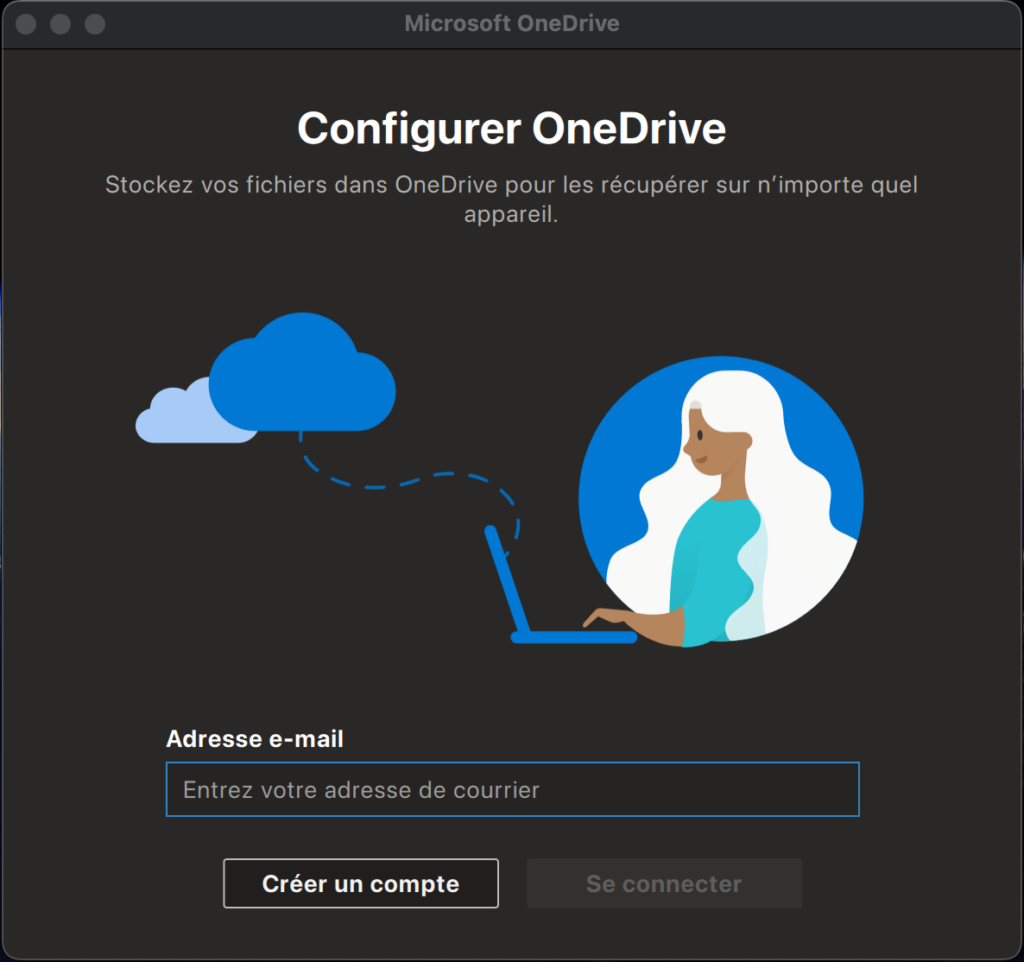 Enter the e-mail address associated with your Microsoft account (this could be @outlook.com, @hotmail.com, or even a business or school address).
Then follow the steps to enter your password and, if necessary, perform a two-step verification.
Once all your preferences have been set, complete the configuration process. OneDrive will then start synchronizing your files according to your choices.
Step 3: Access your files
With OneDrive now installed and configured on your Mac, accessing your files is an intuitive step.
Here's how to explore your data and take advantage of real-time synchronization:
In the Finder, on the sidebar, you should see a folder entitled "OneDrive". Click on it to see all the files and folders you've synchronized.
Inside the OneDrive folder, you can create new folders, add files, delete or move them, just as you would with any other folder on your Mac.
Conclusion
You have now installed and configured OneDrive on your Apple Silicon M1 or M2 Mac. With OneDrive, you can easily save, share and access your files from anywhere, ensuring that your important documents are always close at hand.
FAQs
Is OneDrive compatible with other Microsoft applications on Apple Silicon Macs?
Absolutely! OneDrive integrates seamlessly with Office applications such as Word, Excel, PowerPoint and Outlook on the Mac. This makes for smooth document backup and synchronization.
How do I secure my files on OneDrive?
OneDrive offers several levels of security. Your files are encrypted during transfer and when stored in the cloud. What's more, you can activate two-step verification for your Microsoft account to add an extra layer of security.
Is there a limit to the amount of data I can store on OneDrive?
With a free OneDrive account, you have a limited amount of storage space. If you have an Office 365 or Microsoft 365 subscription, you'll benefit from considerably more storage space.
What should I do if I have synchronization problems with OneDrive?
Make sure you have a stable Internet connection and are using the latest version of the OneDrive application. If the problem persists, check your synchronization settings or contact Microsoft support.
Can I share files from my OneDrive with other people?
Yes, OneDrive makes it easy to share files and folders. You can generate share links directly from the OneDrive application on your Mac or via the OneDrive website.