What features of a laptop should I choose for my job? That's the question on everyone's mind. For example I remember the last computer I bought, I thought about it for at least a week to make my final decision.
So, in this article, I will list and explain everything you need to know before buying a laptop for your business.
6 criteria for choosing a laptop :
Processor = Performance
A processor is therefore a component present in many electronic devices that executes the machine instructions of computer programs. The processor is the heart, the power of your computer. It is therefore expressed in Gigahertz (GHz), a there are computers that come with a frequency of at least 1GHz or less than that. However, it is better to choose a computer with at least a 2GHz frequency for better power. In concrete terms, a frequency of 2 GHz means that the processor can perform two billion operations per second.
Random Access Memory (RAM) = Speed
Random access memory, also called RAM memory, is an instantaneous memory allowing to execute and retain tasks at a moment T without saving them (i.e. the tasks in progress).

The RAM memory is expressed in GB, the latest generation computers (nowadays) come with at least 4GB, minimum capacity for word processing (office automation) for example. However, to use graphic design, simulation, emulation, virtualization, video editing,…, you need at least 8GB of RAM. A large RAM capacity means computer speed, so choose a large capacity and be happy! Lol
The graphic circuit or graphic card
A graphics card or video card, or even a graphics adapter, is a computer expansion card whose role is to produce an image that can be displayed on a screen.
First of all, this part is much more about graphic design, video editing and video games. Nowadays, in fact, all Intel & AMD processors include a graphics circuit that is more than enough to perform basic tasks and play basic games. However, if you plan to perform heavier graphics tasks, such as image processing or video editing, opt for a laptop with a second graphics chip (NVIDIA or AMD) with dedicated memory.
Screen size and definition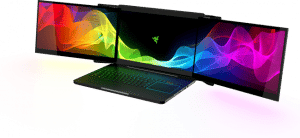 Your computer screen is what you will see the whole time you are in front of your computer. So this is one of the very important criteria in the choice criteria. Regarding the sizes, they vary, for laptops and hybrids, and in their majority from 11.6 inches to 17 inches, but can even go to 18 and 19 inches. However, the most common format is the 15-inch. If you plan to move often with laptop, it is better to choose a small one (max screen size 14 inches), less weight! However, it should be noted that it is possible to connect your small laptop to a larger monitor, with adapted keyboard and mouse for more comfort.
Regarding the definition of the screen, more and more manufacturers are now offering Full HD like televisions, or even Ultra-HD 4K. I therefore recommend a Full HD resolution of 1920 x 1080p. This is more than enough. But if you come across the Ultra-HD 4K screen, you're in for a great viewing experience!
Hard disk (SSD or HDD)
Hard disks have therefore undergone a recent evolution in their design. At present, the market is divided between HDD and SSD.
To read the difference between HDD and SSD.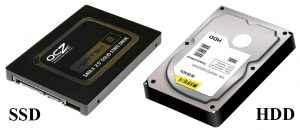 If you want to have a lot of capacity to store data (movies for example), it is better to choose HDD which will go slower. But if you are aiming for speed, SSD is better for you. However, there are computers that come these days with two built-in disks, HDD and SSD. It is then a better choice for those who want both a large storage capacity and the speed of their systems.
Autonomy
The battery of a cell phone is therefore characterized by its capacity (expressed in mAh) and the number of cells that compose it (in relation to the voltage sent). The higher the capacity in mAh, the more durable the battery, so be sure to choose a battery with a long life. However, it is important to know that the greater your need for resources (for video games, for example), the shorter the autonomy. If your use is limited to office automation or Internet browsing, you will have a long autonomy.
Summary of proposals
| | | | | | |
| --- | --- | --- | --- | --- | --- |
| Trades or Usage | Min Processor | RAM Min | Hard disk Min | Graphics card | Autonomy Min |
| Office | 1GHz | 4GB | 250GB | Intel or AMD | 5 hours |
| Graphic design | 2GHz | 8GB | 256GB SSD | NVIDIA or AMD | 5 hours |
| Video editing | 2GHz | 8GB | 512GB SSH and 1TB HDD | NVIDIA or AMD | 5 hours |
| Virtualization | 2GHz | 12GB | 512GB SSD and 1TB HDD | NVIDIA or AMD | 5 hours |
| Simulation or emulation | 2GHz | 12GB | 512GB SSD and 1TB HDD | NVIDIA or AMD | 5 hours |
| Video Games | 2.6GHz | 16GB | 512GB SSD and 1TB HDD | NVIDIA | — |
| … |   |   |   |   | … |