Telegram is a free messaging app that prioritizes security and privacy. It is available on several platforms, including Ubuntu. Follow this guide to learn how to easily install Telegram on Ubuntu 23.04. Don't forget that if you need professional expertise for other technology-related topics, you can check out my Upwork profile.
There are two ways to install Telegram on Ubuntu 23.04. We'll look at both methods in this tutorial.
Read also: How to install Ubuntu 23.04 Lunar Lobster?
Terminal installation method
Using the terminal is a fast and efficient way to install Telegram on Ubuntu 23.04.
Here are the steps to follow:
Step 1: Updating packages
Above all, it's important to update all your system's packages to ensure a smooth installation.
sudo apt update 

&&

 sudo apt upgrade
Step 2: Download the Telegram .tar file
To obtain the necessary installation file, download the Telegram tar file from their official site with the following command:
wget https

:

//telegram.org/dl/desktop/linux

Step 3: Extraction and installation
Once the download is complete, you need to extract the file and launch the installation. To do this, use the following commands:
tar 

-

xvf linux 

&&

 .

/

Telegram

/

Telegram
After running these commands, Telegram should be installed on your Ubuntu 23.04. You can now launch the application and start using it.
If the first method doesn't work for you, try the second below.
Snap Store installation method
Snap is a package system developed by Canonical, the company behind Ubuntu. It allows easy installation of many applications, including Telegram. Follow these steps to install Telegram via the Snap Store:
Step 1: Installing Snap
If Snap is not already installed on your Ubuntu 23.04 system, you'll need to install it first. Here's how to proceed:
Once installation is complete, your system is ready to install applications via Snap.
Step 2: Installing Telegram via Snap
Now that Snap is installed, you can install Telegram using the following command:
sudo snap install telegram

-

desktop
After installation, you'll find the Telegram icon in your applications menu, and you can start using it straight away.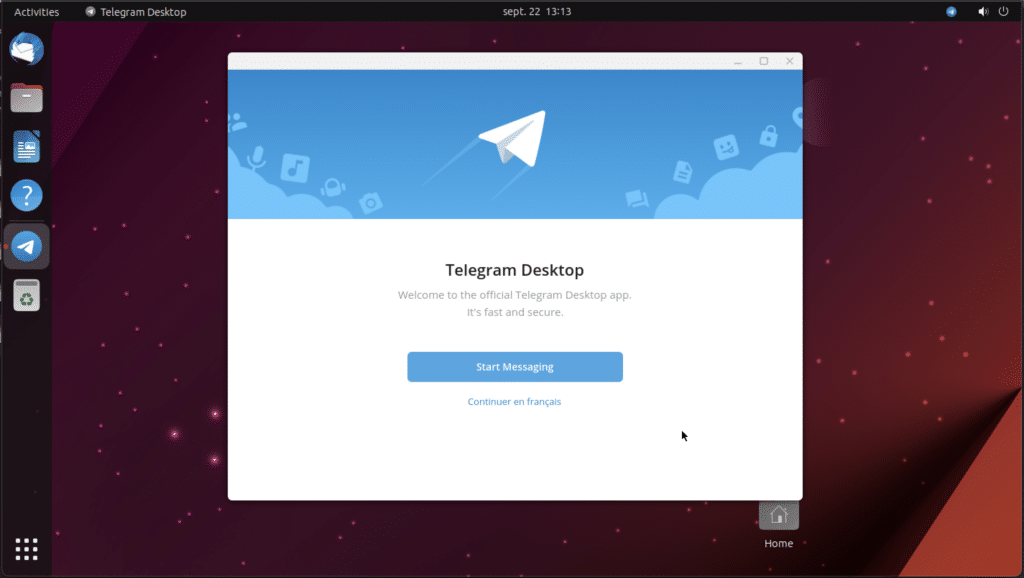 FAQs
1. Is Telegram free on Ubuntu?
Yes, Telegram is completely free on all platforms, including Ubuntu.
2. How can I update Telegram once it's installed?
If you have installed Telegram via the Snap Store, updates are automatically managed by Snap. Alternatively, you can check for updates directly from the official Telegram website.
3. Can I use Telegram on other Ubuntu versions?
Absolutely! Although this guide focuses on Ubuntu 23.04, the installation steps are similar for other Ubuntu versions.
4. I'm having problems with the installation. What should I do?
It is always advisable to review the installation steps. If you continue to encounter difficulties, please do not hesitate to consult my Upwork profile. I'm here to help you.
5. Why choose Telegram over so many other messaging applications?
Telegram is renowned for its focus on security and privacy. What's more, it offers a variety of unique features, such as broadcast channels and high-capacity groups.
Conclusion
Installing Telegram on Ubuntu 23.04 is a straightforward process. With this guide at your fingertips, you can take advantage of Telegram's impressive features in just a few minutes. For any other concerns or if you need assistance in other technology-related areas, please feel free to check out my Upwork profile.